Perancangan Aplikasi Pemesanan Travel Antar Kota Di Sumatera Barat Berbasis Android
Cindy Klaudya Putri

Politeknik Negeri Padang

Dwiny Meidelfi

Politeknik Negeri Padang

Aldo Erianda

Politeknik Negeri Padang
Keywords:
Android, pemesanan tiket , google maps, sistem informasi, travel
Abstract
The development in the field of technology is currently growing rapidly, one of the technological developments at this time is the internet. Then what is obtained by using the internet can also be utilized in the field of transportation, namely by making an Android mobile-based travel ticket booking information system using a smartphone. Travel is a type of transportation service that serves passengers with a door to door or pickup system at the booking address, then delivered to the destination address. However, the process of booking travel tickets today is still done traditionally by coming to the counter or branch office of travel so it takes a lot of time and is inefficient, and there are also several other ways to call a travel agent, sometimes such methods are not effective because of the occurrence of a pile of tickets without accurate data. Therefore this study aims to facilitate travel passengers in searching or booking Travel tickets in the West Sumatra Region by designing an Android mobile application. Apart from that in providing location information to the drivers of the traveling fleet to pick up passengers at certain locations by using Google Maps, and application features such as travel schedules, ticket checks, ticket reservations, and account registration.
References
E. Fernando, "Travelshop: aplikasi penjualan tiket travel berbasis android," 2019.
S. Salwa Husna, M. Fadli, and D. Hajar, "Rancang Bangun Sistem Pemesanan Tiket Bus Berbasis Mobile pada Perusahaan Otobus di Dumai," J. RESTI (Rekayasa Sist. dan Teknol. Informasi), vol. 2, no. 3, pp. 611–620, 2018.
A. H. H.E.Pratama, E.Tasrif, "Sistem Informasi Penyewaan dan Pemesanan Tiket Bus dan Travel Kota Padang," J. Vokasional Tek. Elektron. dan Inform., vol. 36, no. 3, pp. 1–5, 2019.
emadwiandr, "Pembangunan Sistem Aplikasi Penyewaan Mobil Berbasis Android Studi Kasus di CV Abu Sulaiman Rent Car," J. Chem. Inf. Model., vol. 53, no. 9, pp. 1689–1699, 2013.
R. Kaban, W. Yunita, and Y. Faradillah, "Aplikasi Pemesanan Tiket Bus Berbasis Android ( Study Kasus : Pt . Als Terminal Pasar X Tanjung Beringin )," vol. 32, no. 1, 2019.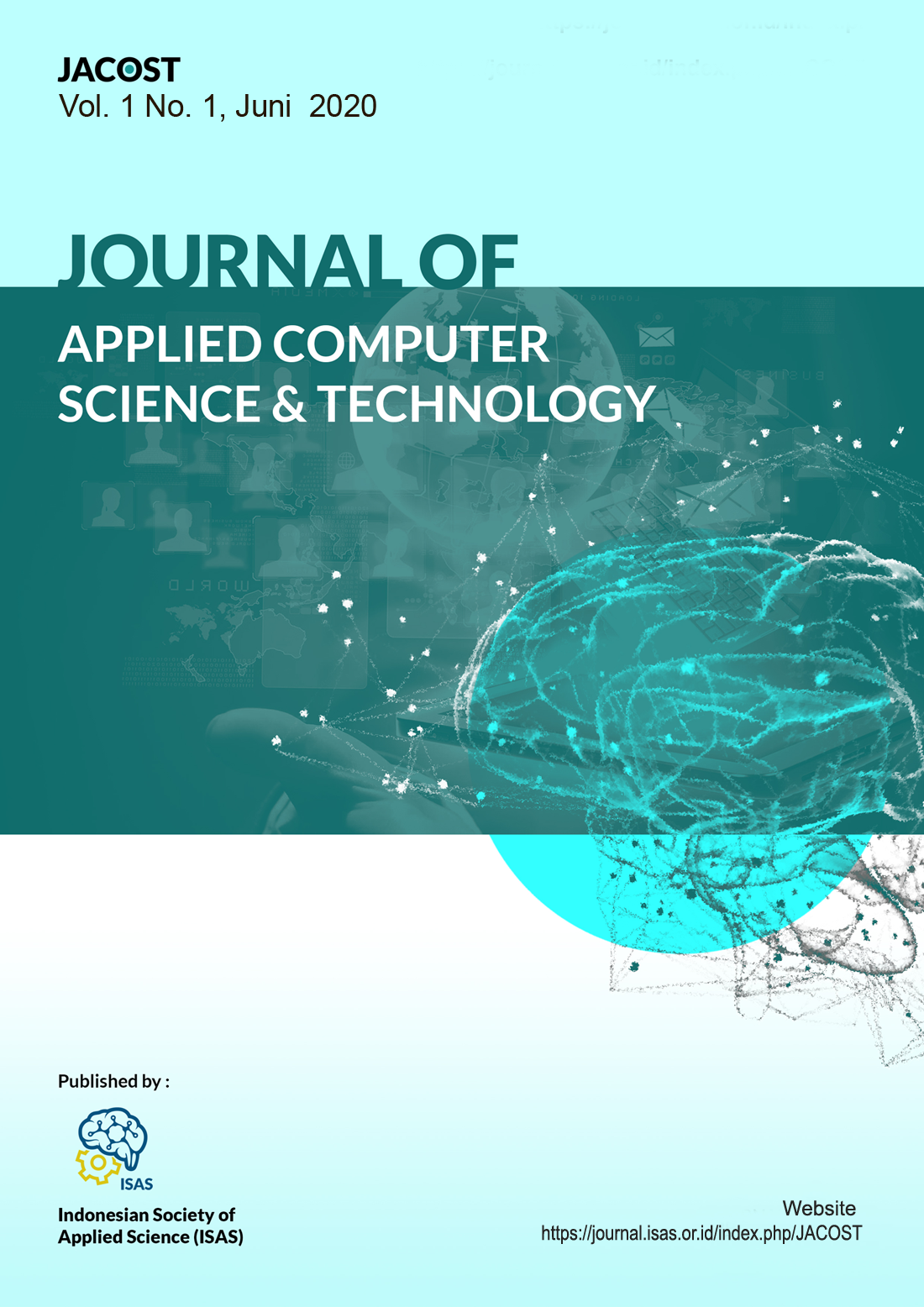 How to Cite
Cindy Klaudya Putri, Dwiny Meidelfi, & Aldo Erianda. (2020). Perancangan Aplikasi Pemesanan Travel Antar Kota Di Sumatera Barat Berbasis Android. Journal of Applied Computer Science and Technology, 1(1), 32 - 37. Retrieved from https://journal.isas.or.id/index.php/JACOST/article/view/48