Perancangan Aktivitas Pemeliharaan dengan Metode Reliability pada Sistem Main Rotor Blade Helikopter BELL 412EP Studi Kasus Penerbad Semarang
Bayu Rahmanto

Sekolah Tinggi Teknologi Kedirgantaran Yogyakarta

Ferry Setiawan

Sekolah Tinggi Teknologi Kedirgantaran Yogyakarta

Edi Sofyan

Sekolah Tinggi Teknologi Kedirgantaraan Yogyakarta
Keywords:
Main rotor blade system, Reliability, FMEA, Maintenance
Abstract
BENGPUSPENERBAD is a central workshop specifically owned by the Indonesian Army in Semarang, where aircraft and helicopters are subject to preventive and corrective maintenance. During the period 2018-2020 the BELL 412 EP helicopters often experienced unscheduled maintenance which resulted in losses resulting in flight failure, this was due to a malfunction in the Main Rotor Blade system. The malfunction of the Main Rotor Blade system is dominated by the hub component, namely on the shaft associated with Crack, Noise and Burn damage, and blade components, namely Corrosions, Nicks, Scratches, Dents, Deformation Holes and Crack. Therefore, the aim of this study is to eliminate failure system and unscheduled maintenance.
To eliminate failure and unscheduled maintenance, the authors perform an analysis with the FMEA method and calculate using the distribution method, then design the appropriate activities on the system. The data used for analysis are qualitative and quantitative data, where the authors use data from Time To Failure (TTF) and Time To Repair (TTR).
According to calculations using the current distribution we found that the Main Rotor Blade system was on time during the 200 operational flight hours, for which the reliability figure was 0.70. Maintenance activities in accordance with the operational conditions of the main rotor blade operating system are preventive maintenance with activities for tool preparation, inspection or chek, dismantling and servicing, and finally installation and finishing activities.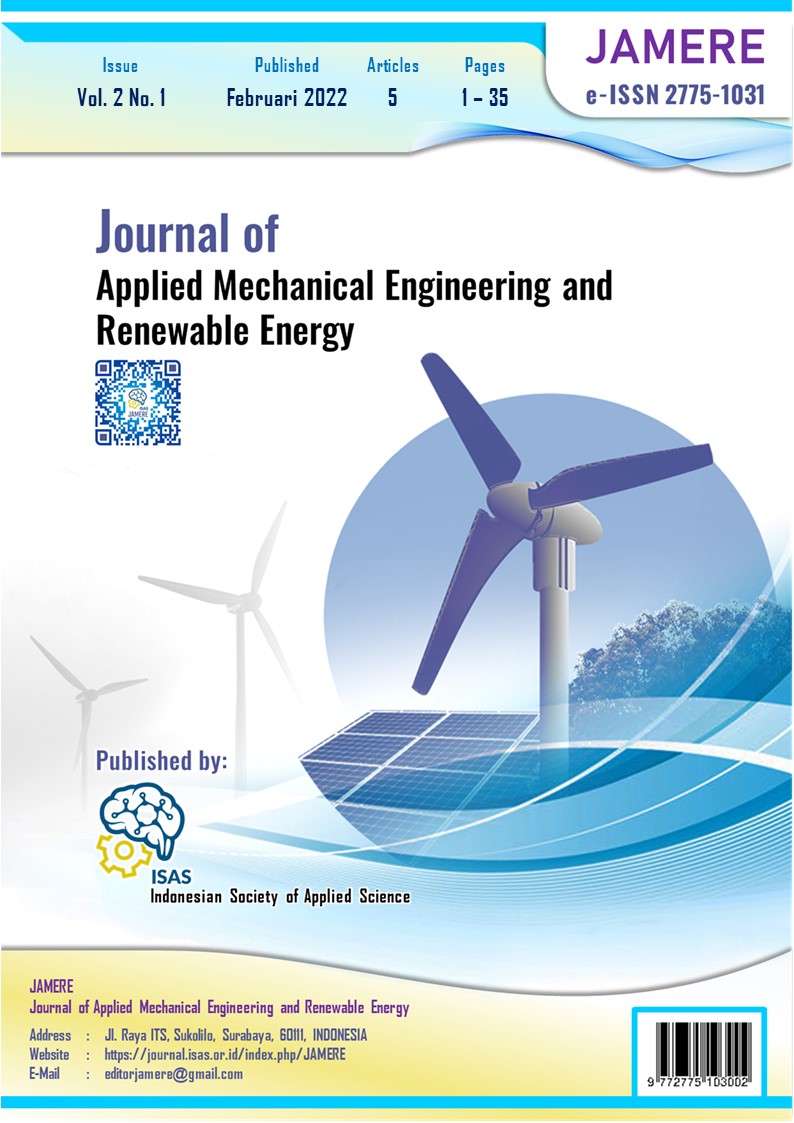 How to Cite
Rahmanto, B., Setiawan, F., & Sofyan, E. (2022). Perancangan Aktivitas Pemeliharaan dengan Metode Reliability pada Sistem Main Rotor Blade Helikopter BELL 412EP Studi Kasus Penerbad Semarang. Journal of Applied Mechanical Engineering and Renewable Energy, 2(1), 9 - 15. https://doi.org/10.52158/jamere.v2i1.243
Copyright (c) 2022 Bayu Rahmanto, Ferry Setiawan, Edi Sofyan
This work is licensed under a Creative Commons Attribution 4.0 International License.