Uji Plagiarism pada Tugas Mahasiswa Menggunakan Algoritma Winnowing
Moh Sadly Ramli

Universitas Sulawesi Barat

Sugiarto Cokrowibowo

Universitas Sulawesi Barat

Muh Fahmi Rustan

Universitas Sulawesi Barat
Keywords:
Algoritma Winnowing, Plagiarism, Similarity, Tugas Mahasiswa
Abstract
Plagiarism is the act of taking or plagiarizing the work, ideas or ideas of others either intentionally or unintentionally and claiming to be one's own work without mentioning the source or author. Often students plagiarize assignments given by the lecturer so that sometimes students just copy other people's assignments to complete the assignment. So that this can lead to dependence on other people in doing assignments and not being able to independently carry out assignments given by the lecturer. Currently, many plagiarism detection systems have been created to help reduce the level of plagiarism, one of which is the winnowing algorithm. In this study the authors used the winnowing algorithm to detect plagiarism in student assignments, namely programming source code, from the results of research conducted on 10 student assignments using the winnowing algorithm produced various similarity values as a percentage of similarity between two students tasks compared. With an average value of the overall similarity of the 10 tasks, namely 75.12%.
Downloads
Download data is not yet available.
References
A. Abdi, N. Idris, R. M. Alguliyev, and R. M. Aliguliyev, "PDLK: Plagiarism detection using linguistic knowledge," Expert Syst. Appl., 2015, doi: 10.1016/j.eswa.2015.07.048.
N. Alamsyah, "Perbandingan Algoritma Winnowing Dengan Algoritma Rabin Karp Untuk Mendeteksi Plagiarisme Pada Kemiripan Teks Judul Skripsi," Technol. J. Ilm., 2017, doi: 10.31602/tji.v8i3.1116.
S. Schleimer, D. S. Wilkerson, and A. Aiken, "Winnowing: Local Algorithms for Document Fingerprinting," 2003.
E. G. Hasan, A. Wicaksana, and S. Hansun, "The Implementation of Winnowing Algorithm for Plagiarism Detection in Moodle-based E-learning," 2018, doi: 10.1109/ICIS.2018.8466429.
A. Agung Putri Ratna, D. Lalita Luhurkinanti, I. Ibrahim, D. Husna, and P. Dewi Purnamasari, "Automatic Essay Grading System for Japanese Language Examination Using Winnowing Algorithm," 2018, doi: 10.1109/ISEMANTIC.2018.8549789.
R. Sutoyo et al., "Detecting documents plagiarism using winnowing algorithm and k-gram method," 2018, doi: 10.1109/CYBERNETICSCOM.2017.8311686.
D. Leman, M. Rahman, F. Ikorasaki, B. S. Riza, and M. B. Akbbar, "Rabin Karp and Winnowing Algorithm for Statistics of Text Document Plagiarism Detection," 2019, doi: 10.1109/CITSM47753.2019.8965422.
B. Sari and Y. Sibaroni, "Deteksi Kemiripan Dokumen Bahasa," vol. 4, pp. 87–98, 2019, doi: 10.21108/indojc.2019.4.3.365.
A. H. Purba and Z. Situmorang, "Analisis Perbandingan Algoritma Rabin-Karp Dan Levenshtein Distance Dalam Menghitung Kemiripan Teks," J. Tek. Inform. Unika St. Thomas, vol. 02, pp. 24–32, 2017.
H. Ajie and A. Surya Bangsa, "Aplikasi Pendeteksi Dugaan Awal Plagiarisme Pada Tugas Siswa Dan Mahasiswa Berdasarkan Kemiripan Isi Teks Menggunakan Algoritma Levenshtein Distance," PINTER J. Pendidik. Tek. Inform. dan Komput., 2017, doi: 10.21009/pinter.1.1.4.
S. Sunardi, A. Yudhana, and I. A. Mukaromah, "Implementasi Deteksi Plagiarisme Menggunakan Metode N-Gram Dan Jaccard Similarity Terhadap Algoritma Winnowing," Transmisi, 2018, doi: 10.14710/transmisi.20.3.105-110.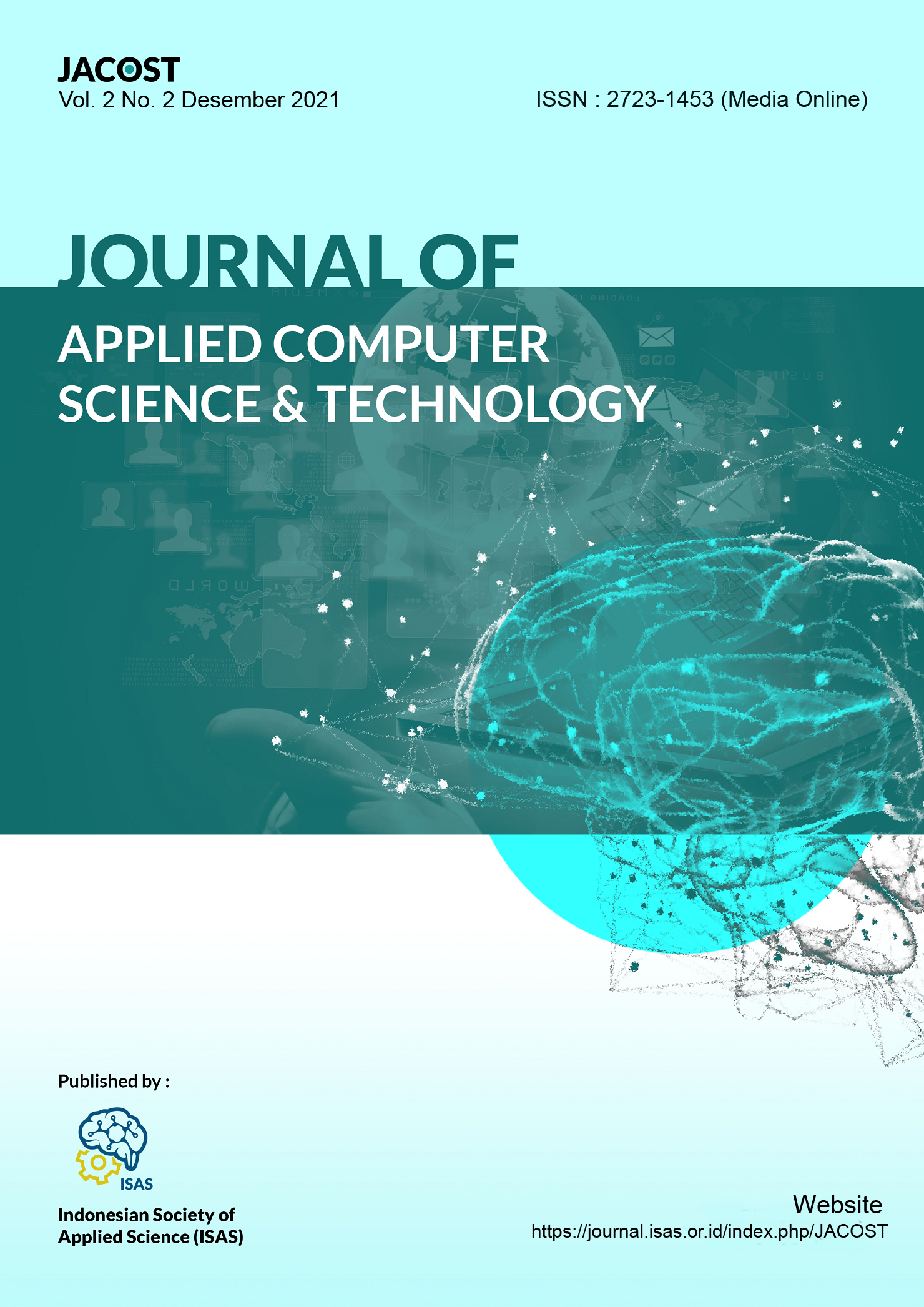 How to Cite
[1]
M. S. Ramli, S. Cokrowibowo, and M. F. Rustan, "Uji Plagiarism pada Tugas Mahasiswa Menggunakan Algoritma Winnowing", J. Appl. Comput. Sci. Technol., vol. 2, no. 2, pp. 108 - 112, Dec. 2021.
Copyright (c) 2021 Moh Sadly Ramli, Sugiarto Cokrowibowo, Muh Fahmi Rustan
This work is licensed under a Creative Commons Attribution-ShareAlike 4.0 International License.
Pernyataan Hak Cipta dan Lisensi
Dengan mengirimkan manuskrip ke Journal of Applied Computer Science and Technology (JACOST), penulis setuju dengan kebijakan ini. Tidak diperlukan persetujuan dokumen khusus.
Hak cipta pada setiap artikel adalah milik penulis.

Penulis mempertahankan semua hak mereka atas karya yang diterbitkan, tak terbatas pada hak-hak yang diatur dalam laman ini.

Penulis mengakui bahwa Journal of Applied Computer Science and Technology (JACOST) sebagai yang pertama kali mempublikasikan dengan lisensi Creative Commons Atribusi 4.0 Internasional (CC BY-SA).
Penulis dapat memasukan tulisan secara terpisah, mengatur distribusi non-ekskulif dari naskah yang telah terbit di jurnal ini kedalam versi yang lain (misal: dikirim ke respository institusi penulis, publikasi kedalam buku, dll), dengan mengakui bahwa naskah telah terbit pertama kali pada Journal of Applied Computer Science and Technology (JACOST);

Penulis menjamin bahwa artikel asli, ditulis oleh penulis yang disebutkan, belum pernah dipublikasikan sebelumnya, tidak mengandung pernyataan yang melanggar hukum, tidak melanggar hak orang lain, tunduk pada hak cipta yang secara eksklusif dipegang oleh penulis

.

Jika artikel dipersiapkan bersama oleh lebih dari satu penulis, setiap penulis yang mengirimkan naskah menjamin bahwa dia telah diberi wewenang oleh semua penulis bersama untuk menyetujui hak cipta dan pemberitahuan lisensi (perjanjian) atas nama mereka, dan setuju untuk memberi tahu rekan penulis persyaratan kebijakan ini.

Journal of Applied Computer Science and Technology (JACOST)

tidak akan dimintai pertanggungjawaban atas apa pun yang mungkin timbul karena perselisihan internal penulis.
Lisensi :
Journal of Applied Computer Science and Technology (JACOST) diterbitkan berdasarkan ketentuan Lisensi Creative Commons Atribusi 4.0 Internasional (CC BY-SA). Lisensi ini mengizinkan setiap orang untuk :.
Berbagi — menyalin dan menyebarluaskan kembali materi ini dalam bentuk atau format apapun;
Adaptasi — menggubah, mengubah, dan membuat turunan dari materi ini untuk kepentingan apapun.
Lisensi :
Atribusi — Anda harus mencantumkan nama yang sesuai, mencantumkan tautan terhadap lisensi, dan menyatakan bahwa telah ada perubahan yang dilakukan. Anda dapat melakukan hal ini dengan cara yang sesuai, namun tidak mengisyaratkan bahwa pemberi lisensi mendukung Anda atau penggunaan Anda.

BerbagiSerupa — Apabila Anda menggubah, mengubah, atau membuat turunan dari materi ini, Anda harus menyebarluaskan kontribusi Anda di bawah lisensi yang sama dengan materi asli.