Protokol HTTPS, Apakah Benar-benar Aman?
Deddy Prayama

Politeknik Negeri Padang

Yuhefizar

Politeknik Negeri Padang

Amelia Yolanda

Politeknik Negeri Padang
Keywords:
protocol, http, https, website, security
Abstract
In particular, the method used in this research is a case study where previously the p3m.pnp.ac.id website still uses the http protocol. However http protocol does not have a method of securing data in its communication. The final result of this research is the design and implementation of the https protocol for data communication security that occurs between visitors and the p3m.pnp.ac.id website. The https protocol that has been implemented is tested to ensure the data traffic on the p3m.pnp.ac.id website is guaranteed to be safe and protected from possible piracy and data theft.
Downloads
Download data is not yet available.
References
Fielding, R., Reschke, J.,2014, RFC 7230 - Hypertext Transfer Protocol (HTTP/1.1): Message Syntax and Routing, IETF
Fielding, et al, RFC 2616 – Hypertext Transfer Protocol (HTTP/1.1) 15 Security Consideration
Willy Sudiarto Raharjo, Aloysius Airlangga Bajuadji, 2016, Analisa Implementasi Protokol HTTPS pada situs web perguruan tinggi di pulau Jawa, Ultimatics, Jurnal Ilmu Teknik Informatika, Universitas Multimedia Nusantara.
Evan Gilman, Doug Barth, 2017, Zero Trust Network, Building Secure Systems in Untrusted Networks (Kindle Edition),UK , O-Reilly
Forshaw, James, 2017, Attacking Network Protocol: A Hacker's Guide to Capture, Analysis, and Exploitation 1st Edition, San-Francisco, No Starch Press
Rahim, Robbi & Ratnadewi, Ratnadewi & Prayama, D & Asri, E & Satria, D., 2018. Base64, End of File and One Time Pad for Improvement Steganography Security. IOP Conference Series: Materials Science and Engineering. 407. 012161. 10.1088/1757-899X/407/1/012161.
Satria, Deni & Alanda, Alde & Erianda, Aldo & Prayama, Deddy. (2018). Network Security Assessment Using Internal Network Penetration Testing Methodology. JOIV : International Journal on Informatics Visualization. 2. 360. 10.30630/joiv.2.4-2.190.
Tanenbaum, Andrew, S; Weatherall, David, J , 2011, Computer Network , Fifth Edition, USA, Prentice Hall
Rice, Liz, 2020, Container Security: Fundamental Technology Concepts that Protect Containerized Applications, O'Reilly Media, Inc.
Justin Meza, Tianyin Xu, Kaushik Veeraraghavan, and Onur Mutlu, 2018, A Large Scale Study of Data Center Network Reliability, Proceedings of the Internet Measurement Conference 2018, Association for Computing Machinery, 2018. https://doi.org/10.1145/3278532.3278566.
K, Allen Scott, 2012, What Every Web Developer Should Know About HTTP, OdeToCode LLC; 3rd Edition, US, OdeToCode
Qualys. Inc, 2020, SSLLabs, [update 2020] tersedia di https://www.ssllabs.com/index.html [Accessed 23 November 2020]
Xiong G., Tong J., Xu Y., Yu H., Zhao Y. (2014) A Survey of Network Attacks Based on Protocol Vulnerabilities. In: Han W., Huang Z., Hu C., Zhang H., Guo L. (eds) Web Technologies and Applications. APWeb 2014. Lecture Notes in Computer Science, vol 8710. Springer, Cham. https://doi.org/10.1007/978-3-319-11119-3_23
Mozilla Observatory, 2017, Web Security, [updated 2017] tersedia di https://infosec.mozilla.org/guidelines/web_security [Accessed 25 November 2020]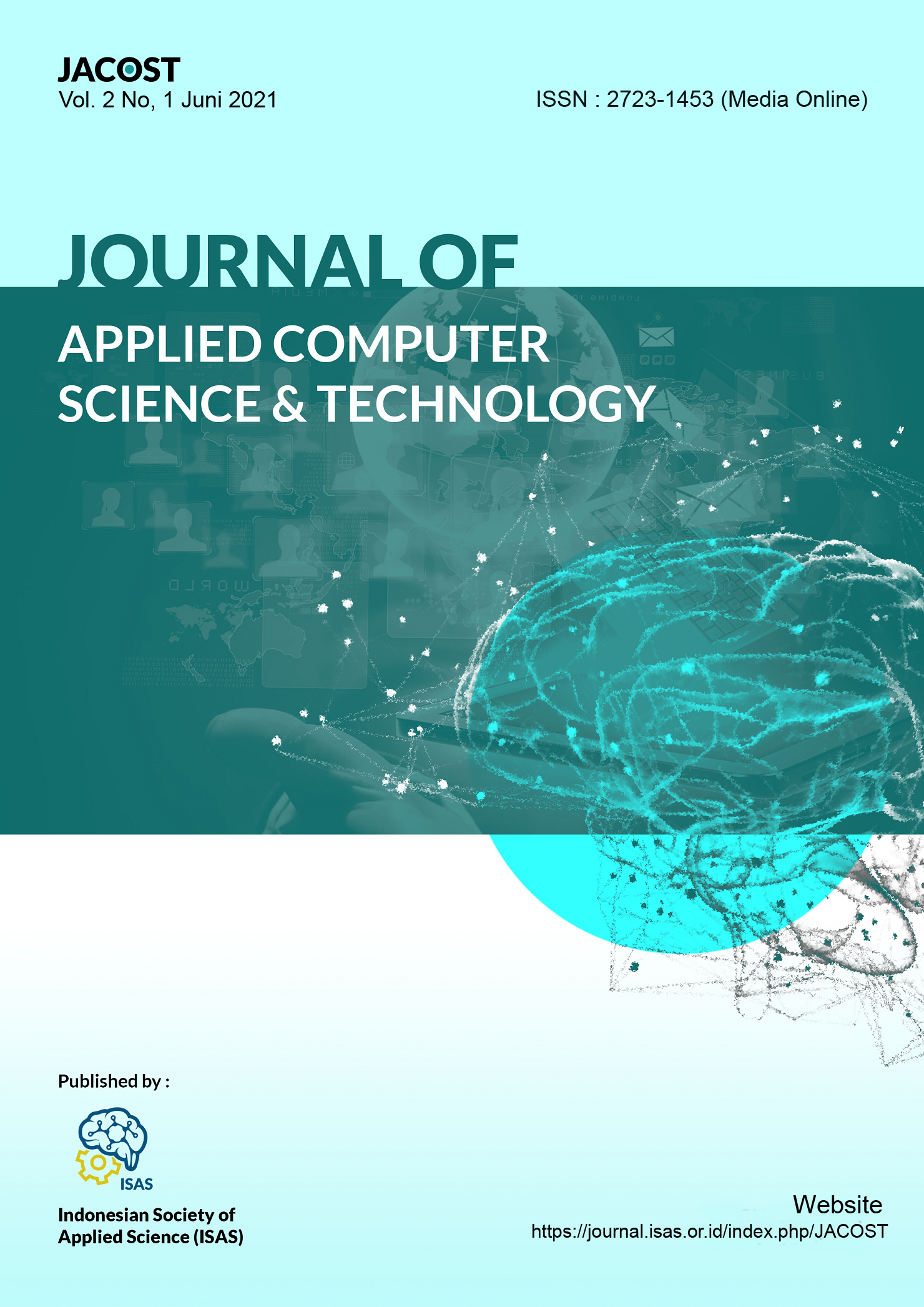 How to Cite
[1]
D. Prayama, Yuhefizar, and Amelia Yolanda, "Protokol HTTPS, Apakah Benar-benar Aman?", JACOST, vol. 2, no. 1, pp. 7 - 11, Jun. 2021.
Copyright (c) 2021 Deddy Prayama, Yuhefizar, Amelia Yolanda
This work is licensed under a Creative Commons Attribution-ShareAlike 4.0 International License.
Pernyataan Hak Cipta dan Lisensi
Dengan mengirimkan manuskrip ke Journal of Applied Computer Science and Technology (JACOST), penulis setuju dengan kebijakan ini. Tidak diperlukan persetujuan dokumen khusus.
Hak cipta pada setiap artikel adalah milik penulis.

Penulis mempertahankan semua hak mereka atas karya yang diterbitkan, tak terbatas pada hak-hak yang diatur dalam laman ini.

Penulis mengakui bahwa Journal of Applied Computer Science and Technology (JACOST) sebagai yang pertama kali mempublikasikan dengan lisensi Creative Commons Atribusi 4.0 Internasional (CC BY-SA).
Penulis dapat memasukan tulisan secara terpisah, mengatur distribusi non-ekskulif dari naskah yang telah terbit di jurnal ini kedalam versi yang lain (misal: dikirim ke respository institusi penulis, publikasi kedalam buku, dll), dengan mengakui bahwa naskah telah terbit pertama kali pada Journal of Applied Computer Science and Technology (JACOST);

Penulis menjamin bahwa artikel asli, ditulis oleh penulis yang disebutkan, belum pernah dipublikasikan sebelumnya, tidak mengandung pernyataan yang melanggar hukum, tidak melanggar hak orang lain, tunduk pada hak cipta yang secara eksklusif dipegang oleh penulis

.

Jika artikel dipersiapkan bersama oleh lebih dari satu penulis, setiap penulis yang mengirimkan naskah menjamin bahwa dia telah diberi wewenang oleh semua penulis bersama untuk menyetujui hak cipta dan pemberitahuan lisensi (perjanjian) atas nama mereka, dan setuju untuk memberi tahu rekan penulis persyaratan kebijakan ini.

Journal of Applied Computer Science and Technology (JACOST)

tidak akan dimintai pertanggungjawaban atas apa pun yang mungkin timbul karena perselisihan internal penulis.
Lisensi :
Journal of Applied Computer Science and Technology (JACOST) diterbitkan berdasarkan ketentuan Lisensi Creative Commons Atribusi 4.0 Internasional (CC BY-SA). Lisensi ini mengizinkan setiap orang untuk :.
Berbagi — menyalin dan menyebarluaskan kembali materi ini dalam bentuk atau format apapun;
Adaptasi — menggubah, mengubah, dan membuat turunan dari materi ini untuk kepentingan apapun.
Lisensi :
Atribusi — Anda harus mencantumkan nama yang sesuai, mencantumkan tautan terhadap lisensi, dan menyatakan bahwa telah ada perubahan yang dilakukan. Anda dapat melakukan hal ini dengan cara yang sesuai, namun tidak mengisyaratkan bahwa pemberi lisensi mendukung Anda atau penggunaan Anda.

BerbagiSerupa — Apabila Anda menggubah, mengubah, atau membuat turunan dari materi ini, Anda harus menyebarluaskan kontribusi Anda di bawah lisensi yang sama dengan materi asli.