Uji Impact Material Komposit Campuran Serat Bambu Dan Pasir Besi Menggunakan Metode Hand Lay Up
Ferry Setiawan

Sekolah Tinggi Teknologi Kedirgantaran Yogyakarta

Dendy Syaputra Pratama

Sekolah Tinggi Teknologi Kedirgantaraan

Rio Saputra Lubis

Sekolah Tinggi Teknologi Kedirgantaraan

Edy Sofyan

Sekolah Tinggi Teknologi Kedirgantaraan
Abstract
A composite is one of the materials that is a mixture of two or more materials to form a third, more useful material. In this study, researchers chose bamboo fiber and iron sand as reinforcement for composite materials because the selection of bamboo fiber as a research material took into account the potential of bamboo fiber in Indonesia which is abundant and has not been utilized properly. The purpose of making bamboo fibrous composite materials aims to find a material that is lighter stronger and more elastic, can be developed into other products such as the manufacture of drone frames, aircraft bodies, brake pads. The method used is an experiment with making specimens using the hand lay up method and testing using impact testing and micro photo testing. Impact testing is used to determine the properties and characteristics of the material in the form of strength, hardness, and ductility of the material while for micro photos it is used to determine the bond of the material composition with the best impact test. The test standards used are ASTM D6110-10 with random fiber arrangement and ASTM D6110-04 with the arrangement of woven fibers, with variations in volume composition of bamboo fiber and iron sand particles. In the D6110-10 specimens, the best specimens were found in the variation with the most bamboo fibers, namely 35S10 P with an impact energy of 4.27 J and an impact price of 0.04 J / mm2, while the lowest variation was found in the most iron sand, namely 35P10S with an impact energy value of 2.26 J and an impact price of 0.02 J / mm2. In the D6110-04 specimen also showed the same characteristics as the ASTM D6110-10 specimen, the 30S30P variation or the composition of the most bamboo fibers had an impact energy value of 4.09 J while in the 10S10P variation it was only 1.47 J. Thus the more bamboo fibers will make the impact strength of the specimen higher.
References
[1] D. A. Porwanto dan L. Johar, "Karakterisasi komposit berpenguat serat bambu dan serat gelas sebagai alternatif bahan baku industri," J. Tek. Fis. ITS, hal. 1–16, 2008.
[2] H. Riyanto, "PENGARUH PENAMBAHAN SILIKA TERHADAP KEKUATAN TARIK KOMPOSIT SILIKA - KARET ALAM," Skripsi, 2018.
[3] F. A. Wahyudi dan L. D. Yuono, "Pengaruh Komposisi Serat Terhadap Kekuatan Impak Komposit Yang Diperkuat Serat Bambu," Wahyudi, F. A., Yuono, L. D., vol. 4, no. 2, hal. 72–78, 2017.
[4] I. M. A. Dwipayana dan I. K. A. Widi, "Analisa Uji Tarik Dan Uji Impak Komposit Penguat Karbon , Campuran Epoxy-Karet Silikon 30 %, 40 %, 50 %, Rami , Kenaf Matrik Epoxy," hal. 5, 2020.
[5] S. Susilawati et al., "Identifikasi Kandungan Fe Pada Pasir Besi Alam Di Kota Mataram," J. Pendidik. Fis. Dan Teknol., vol. 4, no. 1, hal. 105, 2018.
[6] Rusnoto, "STUDI PENGARUH PANJANG SERAT BAMBU PADA KEKUATAN IMPAK KOMPOSIT MATRIK POLYESTER," Engineering, 2018.
[7] R. Pramono, "Analisa Kekuatan Impak Dengan Variasi Sudut Bandul Pada Material Logam Baja St37," 2016.
[8] Setiawan, Ferry, Haris Ardianto, and Teknik Dirgantara. 2018. "Karekteristik Sifat Mekanis Kekuatan Tarik Komposit Nano Partikel Daur Ulang PET Dengan Limbah Abu Bagase Boiler" 5 (2): 30–44.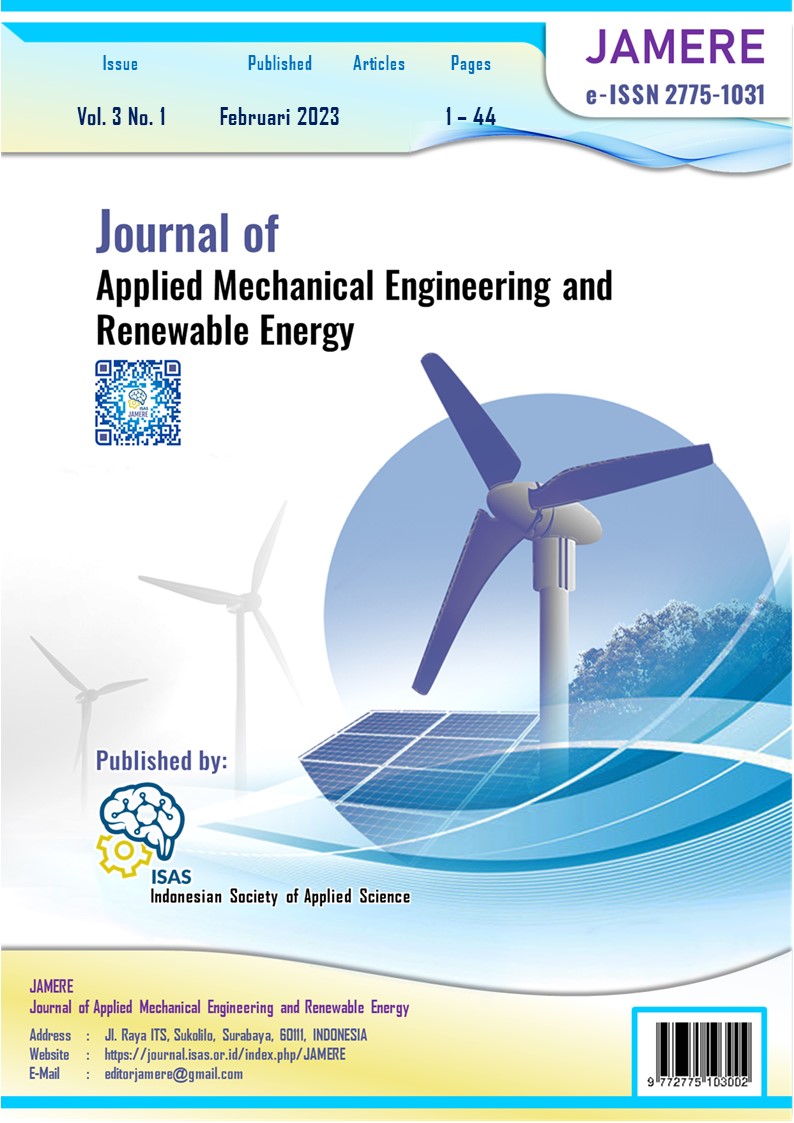 How to Cite
Setiawan, F., Pratama, D. S., Lubis, R. S., & Sofyan, E. (2023). Uji Impact Material Komposit Campuran Serat Bambu Dan Pasir Besi Menggunakan Metode Hand Lay Up. Journal of Applied Mechanical Engineering and Renewable Energy, 3(1), 28-33. https://doi.org/10.52158/jamere.v3i1.399
Copyright (c) 2023 Dendy Syaputra Pratama,Rio Saputra Lubis,Ferry Setiawan, Edy Sofyan
This work is licensed under a Creative Commons Attribution 4.0 International License.