Pengaruh Variasi Temperatur Perlakuan Panas dan Media Pendingin Terhadap Sifat Mekanis dan Mikrostruktur Aluminium 2024
Yudhi Chandra Dwiaji

Universitas Mercubuana
Keywords:
aluminum 2024, hardness rockwell, heat treatment, quenching
Abstract
Aluminum alloys 2024 is a kind of metal that enjoys a few upper hands over different sorts of metals. Aluminum composite 2024 is utilized in the common and military airplane industry, to be specific in the skin part of the airplane. Working on the nature of this aluminum amalgam should be possible through heat treatment. To work on the nature of the 2024 aluminum alloys, an intensity therapy process is completed. This study was led to decide the hardness esteem in aluminum materials in 2024 when going through heat treatment. This test was completed at the Machining Studio of PT. GMF Air Asia. utilizing hardness test hardware subsequent to being exposed to warm treatment. The example to be tried, specifically aluminum sheet 2024 thickness 1.6mm with a size of 30 cm x 20 cm. In the warming system for aluminum 2024, it is conveyed outby embedding examples into the warming kitchen to a temperature of 400° C and 500° C, and followed by a regulation cycle with a period of 3 - 5 minutes each. After the intensity therapy process, the following system is the cooling system by dunking aluminum 2024 into the oil and watercooling media compartment until the temperature on the example gets back to business as usual. In the wake of cooling, it was gone on with rockwell hardness testing. In this test, 5 information assortment focuses were done on every example with various places. The consequences of rockwell hardness testing before heat treatment were 29.62 HRB. After heat treatment, the most elevated hardness was found in test examples with oil cooling media at a temperature of 500° C, in particular 59.68 HRB. what's more, the least was tracked down in a comparative treatment to water cooling media at a temperature of 500° C, specifically 56.38 HRB
References
[1] M. Taufiq, "Pengaruh Perlakuan Panas pada Al Alloy 2014 Terhadap Kekuatan Tarik, Keuletan dan Struktur Mikro," 2020, [Online]. Available: http://eprints.ums.ac.id/id/eprint/90974
[2] A. Naafila, A. Purnowidodo, and P. H. Setyarini, "Pengaruh Waktu Solution Treatment Terhadap Kekuatan Tarik Aluminium Paduan AA 7075-T6," Pros. SENIATI, pp. 215–220, 2019.
[3] M. Nofri, "Analisis Perubahan Sifat Mekanik Al 6063 Setelah Dilakukan Heat Treatment Pada Temperatur Tetap Dengan Waktu Tahan Yang Bervariasi," Bina Tek., vol. 16, no. 1, p. 35, 2020, doi: 10.54378/bt.v16i1.1757.
[4] A. I. S. Magdalena Feby Kumayasari, "Studi Uji Kekerasan Rockwell Superficial VS Micro Vickers Comparation Study Of Hardness Testing By Using Rockwell Superficial VS Microvickers," J. Teknol. Proses dan Inov. Ind., vol. 2, no. 2, pp. 85–88, 2017.
[5] S. Suyanto, "Pengaruh Natural Aging Terhadap Sifat Mekanis Aluminium Paduan a356 Sebagai Bahan Propeler," J. Rekayasa Mesin, vol. 14, no. 3, p. 97, 2019, doi: 10.32497/jrm.v14i3.1638.
[6] M. Castings, D. Castings, M. Products, A. Products, R. Semi-, and S. C. Processes, "B917B917M-12_Standard_Practice_for_Heat_Treatment_of_Aluminum-Alloy_Castings_from_All_Processes.pdf", doi: 10.1520/B0917.
[7] D. Mas, "Annealing Proses annealing," Pdfcoffee.Com, pp. 1–29, 2016, [Online]. Available: https://pdfcoffee.com/11-12-perlakuan-panas-pdf-free.html#Dimas+Mas
[8] F. P. Putra and R. Siswanto, "Pengaruh Temperatur Tuang Terhadap Porositas, Stuktur Mikro Dan Kekerasan Dari Alumunium Rongsok Velg Menggunakan Pengecoran Evaporatif," Jtam Rotary, vol. 3, no. 2, pp. 219–232, 2021, doi: 10.20527/jtam_rotary.v3i2.4119.
[9] Bahtiar, M. Iqbal, and Supramono, "Pengaruh Media Pendingin Minyak Pelumas Sae 40 Pada Proses Quenching Dan Tempering Terhadap Ketangguhan Baja Karbon Rendah," J. Mek., vol. 05, no. 01, pp. 455–463, 2014.
[10] A. Setiawan and A. Dipogusti, "Effect of pack carburizing and viscosity of quenching media on AISI 1010 steel," JEMMME (Journal Energy, Mech. Mater. Manuf. Eng., vol. 7, no. 1, pp. 9–20, 2022.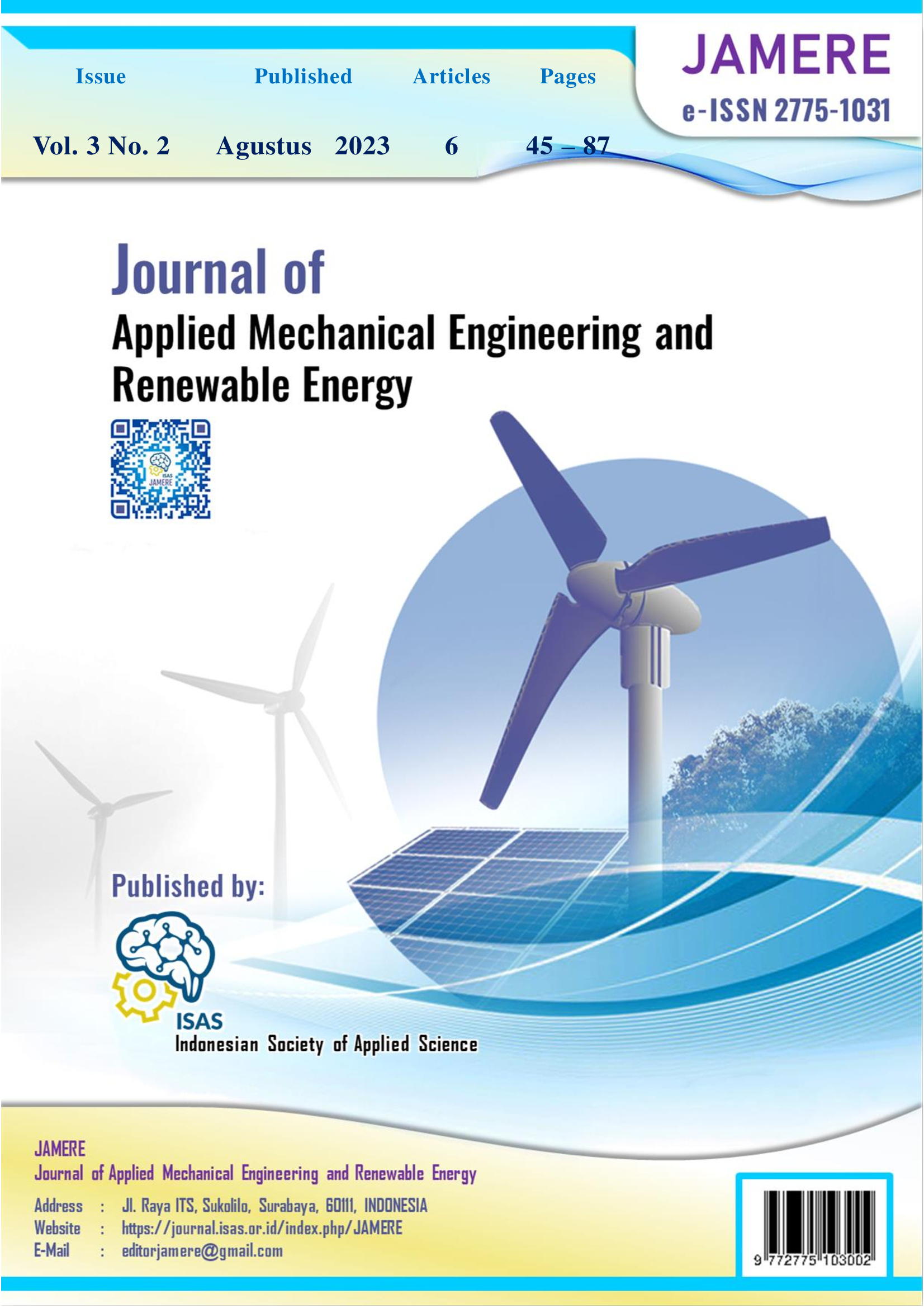 How to Cite
Yudhi Chandra Dwiaji. (2023). Pengaruh Variasi Temperatur Perlakuan Panas dan Media Pendingin Terhadap Sifat Mekanis dan Mikrostruktur Aluminium 2024. Journal of Applied Mechanical Engineering and Renewable Energy, 3(2), 69-75. https://doi.org/10.52158/jamere.v3i2.571
Copyright (c) 2023 Yudhi Chandra Dwiaji
This work is licensed under a Creative Commons Attribution 4.0 International License.