Model evaluasi Kirkpatrick pada Program Bina Desa: Penguatan bisnis kuliner kader Pemberdayaan Kesejahteraan Keluarga (PKK)
Tuatul Mahfud

Politeknik Negeri Balikpapan

Ria Setyawati

Balikpapan State Polytechnic

Bambang Jati Kusuma

Balikpapan State Polytechnic

Nawang Retno Dwiningrum

Balikpapan State Polytechnic

Basri Basri

Balikpapan State Polytechnic
Abstract
Entrepreneurs have been widely recognized as contributing greatly to improving a country's economy, including in Indonesia. In fact, currently, the segmentation of women entrepreneurs has received much attention in most governments globally. Therefore, this village development program aims to strengthen the Joint Business Group-based culinary business. The partners involved in this program are Family Welfare Empowerment cadres in South Balikpapan District. The results using the Kirkpatrick evaluation model at levels 1 and 2 show that the partners consider the training program (village development) satisfactory. Also, this training program effectively influences cooking self-efficacy and partners' entrepreneurial intentions. The evaluation of this program has important implications for strengthening the Joint Business Group-based culinary business for Family Welfare Empowerment cadres.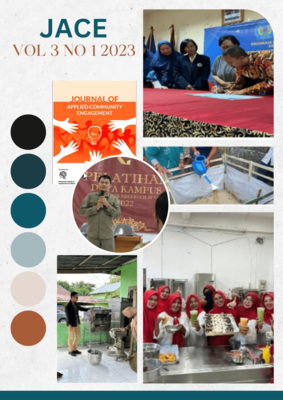 Copyright (c) 2023 Tuatul Mahfud, Ria Setyawati, Bambang Jati Kusuma, Nawang Retno Dwiningrum, Basri Basri
This work is licensed under a Creative Commons Attribution 4.0 International License.