Pelatihan Penulisan Korespondensi Bahasa Indonesia pada Lembaga Pelatihan di kota Surabaya
Eric Sulindra

Universitas Katolik Widya Mandala Surabaya

Yohanes Adven Sarbani

Universitas Katolik Widya Mandala Surabaya

Anastasia Nelladia Cendra

Universitas Katolik Widya Mandala Surabaya

Tuti Hartani

Universitas Katolik Widya Mandala Surabaya
Abstract
Given the importance of correspondence in every organization, the ability to produce good and correct letters requires certain skills. Therefore, training on writing business letters and correspondence is urgently needed for many organizations, Himpunan Penyelenggaran Pelatihan dan Kursus Indonesia (HIPKI) and Himpunan Lembaga Pelatihan Seluruh Indonesia (HILLSI) which are our partners. The Vocational Faculty Abdimas Team, specifically from Diploma of Office Administration Study Program, Widya Mandala Surabaya Catholic University conducted community service activities in the form of correspondence training, in terms of the parts of the letter and the language of the letter, for HIPKI and HILLSI members. After conducting online training using Zoom Meeting, the participants showed an increased understanding of letter writing, in terms of the parts of the letter and the language of the letter. This is indicated by an increase in the participants' average scores from 30 in the pre-test to 71.67 in the post-test. Participants hope that this training can be continued with advanced training, especially in deepening the material in making effective sentences in the contents of letters.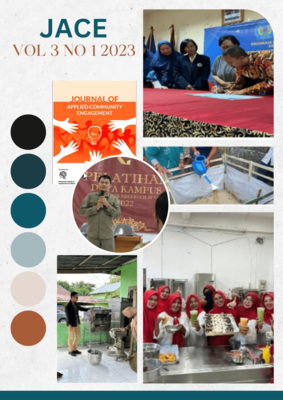 Copyright (c) 2023 Eric Sulindra, Yohanes Adven Sarbani, Anastasia Nelladia Cendra, Tuti Hartani
This work is licensed under a Creative Commons Attribution 4.0 International License.