Penerapan Solar Cell untuk Mendukung Ketahanan Energi dan Perekonomian Pedagang Kaki lima Ruang Terbuka Hijau Kota Balikpapan
Riklan Kango

Politeknik Negeri Balikpapan

Hendra Sanjaya Kusno

Politeknik Negeri Balikpapan

Ezra Hartarto Pongtuluran

Politeknik Negeri Balikpapan

Dahyang Ika Leni Wijayani

Politeknik Negeri Balikpapan

Suhaedi Suhaedi

Politeknik Negeri Balikpapan
Keywords:
street vendors, green open spaces, solar cells, merchant carts
Abstract
The electricity source of the street vendor community in Taman Bekapai, Balikpapan City, depends on PLN sources, resulting in an electrical energy crisis. As well as the amount of investment that must be spent to build a cable system power grid is an obstacle. This service aims to implement 60 WP solar panel technology products with solar cell electricity generation integrated into street vendor cart storefronts as an environmentally friendly electricity operational cost efficiency. The method of implementing activities directly and limitedly pays attention to health protocols. The stages are: (1) implementing electricity source products from new energy for street vendor carts (2) technical and operational assistance for solar panel maintenance for traders, (3) accounting information management training as financial management of partner businesses, (4) evaluation and monitoring of the results of village development program activities. The result of this program is the availability of 1 (one) street vendor cart integrated with 60 WP/h solar panel technology as a source of electrical energy and lighting. The installation of these solar panels can reduce the trader's electricity operations with an efficiency of about 13-17%. In addition, there was a 56% increase in partner knowledge of venture management and a 70% increase in skills in using solar panels as an alternative source of electricity to merchant carts.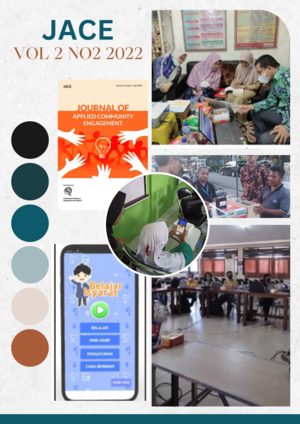 Copyright (c) 2023 Riklan Kango, Hendra Sanjaya Kusno, Ezra Hartarto Pongtuluran, Dahyang Ika Leni Wijayani, Suhaedi Suhaedi
This work is licensed under a Creative Commons Attribution 4.0 International License.