Pendampingan Pelaksanaan Sistem Administrasi Inventori UKM "Sumber Berkat Mandiri", Kabupaten Blitar
Eric Sulindra

Universitas Katolik Widya Mandala Surabaya

Tuti Hartani

Universitas Katolik Widya Mandala Surabaya

Ester Widawati Tedjo

Universitas Katolik Widya Mandala Surabaya

Yohanes Adven Sarbani

Universitas Katolik Widya Mandala Surabaya

Philipus Suryo Subandoro

Universitas Katolik Widya Mandala Surabaya
Keywords:
stock inventory, inventory management, Small and Medium Enterprise
Abstract
UKM Sumber Berkat Mandiri is a shop that sells approximately 350 types of livestock equipment, modern agriculture, and techniques. Sumber Berkat Mandiri serves buyers directly or through marketplaces. The number of items are quite many and it makes the owners to manage their stocks. Moreover, the owners are still using the "stall management system", Almost all the affairs are done individually and are not recorded neatly. Therefore, the owner often experiences over-stock or the opposite, shortage of stock. In last year's community service activity, the team introduced an inventory management application. However, it turned out that the Small and Medium Enterprise (SME) is still having difficulty using the application. The purpose of this community service activity is to provide help in operating the inventory management application and prepare work guides for the partner, Sumber Berkat Mandiri SME, so that they can use the inventory management application. With assistance in the use of inventory management applications, the partner can have the skills and expertise in using applications in recording quantities and controlling inventory of their merchandise, as well as making inventory management more effective and efficient.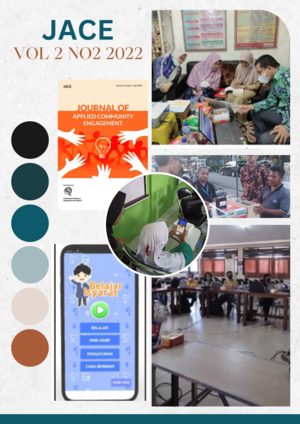 Copyright (c) 2022 Eric Sulindra, Tuti Hartani, Ester Widawati Tedjo, Yohanes Adven Sarbani, Philipus Suryo Subandoro
This work is licensed under a Creative Commons Attribution 4.0 International License.