Penerapan teknologi inovasi smart bench sebagai alternatif sumber listrik fasilitas wisata taman kota di balikpapan
Program Produk Teknologi yang Didiseminasikan ke Masyarakat BRIN Tahun Anggaran 2021
Riklan Kango

Politeknik Negeri Balikpapan

Yogiana Mulyani

Politeknik Negeri Balikpapan

Ezra Hartarto Pongtuluran

Politeknik Nnegeri Balikpapan
Keywords:
Green open space, smart bench, solar cell, city park tour
Abstract
The source of electricity for public facilities at the Green Open Space Park in Balikpapan City, which is used as a tourist spot, is very dependent on PLN sources, resulting in the problem of an electrical energy crisis. The purpose of this activity is to disseminate Smart Bench technology products with the generation of solar cell electricity, which functions as a seat and a place to charge mobile electronic devices as well as a source of electricity for lighting to increase public participation in using parks as tourist areas in the city. The method of implementing this service is applying solar cell technology for the supply of electric energy for park bench facilities, socialization and training to partners regarding the operation of intelligent benches, counselling about mapping the tourism potential of city parks. The result of this activity is the availability of a multifunctional park bench product as a seat, a mobile phone charging station, and a source of lighting for the garden area. In addition, there is an increase in partner knowledge in identifying the potential for park tourism in the city of Balikpapan.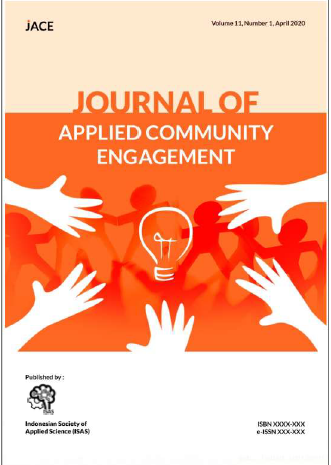 Copyright (c) 2021 Journal of Applied Community Engagement
This work is licensed under a Creative Commons Attribution 4.0 International License.