Penerapan Alat Praktek Air Conditioning (AC Trainer) pada SMK Negeri 5 Balikpapan
Syaeful Akbar

Politeknik Negeri Balikpapan

Wahyu Anhar

Politeknik Negeri Balikpapan

Basri

Politeknik Negeri Balikpapan
Abstract
The air conditioning (AC) system affects the performance, comfort and health of the vehicle operator/passenger. The increasing use of AC equipment in vehicles causes the need for skilled AC workers also increase. The absence of AC practice equipment in technical vocational schools causes the implementation of learning to be not optimal. Through the Community Service (PKM) activity of Politeknik Negeri Balikpapan (Poltekba) in 2020 an AC practice tool will be made, which will then be applied to service partners. The activity of manufacturing and assembling AC practical equipment is divided into three parts, manufacture and assembly of the frame, assembly of AC components, and electrical installations. The application of AC practice tools will improve the service partners learning facilities, especially in AC practice activities.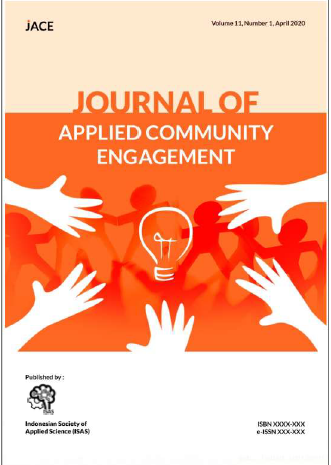 Copyright (c) 2021 Journal of Applied Community Engagement
This work is licensed under a Creative Commons Attribution 4.0 International License.