Perawatan Mesin Diesel Generator Pada Kapal KN.SAR SADEWA 231
Lukas Kristianto

Sekolah Tinggi Maritim Yogyakarta

Waris Wibowo

Sekolah Tinggi Maritim Yogyakarta

Ningrum Astriawati

Sekolah Tinggi Maritim Yogyakarta

Nanang Kristiawan

Sekolah Tinggi Maritim Yogyakarta
Keywords:
aintenance, Diesel Engine, Generator
Abstract
A generator or alternator is a copper coil or coil consisting of a stator (static coil) and a rotor (rotating coil). The main function of the generator on board is to supply the electrical power needs on board. One of the disturbances that occur in generators is often the heat of the generator (overheating) and also the absence of electric voltage on the generator. The purpose of this study is to optimize maintenance on the generator maintenance system on KN ships. SAR SADEWA 231. This research is qualitative descriptive research. This research was on the engine of the KN SAR Sadewa 231 ship belonging to the Semarang Search and Rescue (SAR) Search and Rescue Office. The results showed that the generator on the main engine of the KN Ship. SAR SADEWA 231 uses an Alternating current (AC) generator power generation system. The implementation of maintenance of the generator system on the ship is good. The generator system parts that are treated include the stater dynamo, alternator, fuel filter, air filter, cooler, nozzle, bosh pump, turbocharge, muffler, and main board switch.
References
[1] F. S. Fatimah, H. Asy'ari, A. Sandria, And J. A. Nasucha, "Learning Fiqh Based On The Tapps (Think Aloud Pair Problem Solving) Method In Improving Student Learning Outcomes," At-Tadzkir Islam. Educ. J., Vol. 2, No. 1, Pp. 1–15, 2023.
[2] G. P. Tumilaar, F. Lisi, And M. Pakiding, "Optimalisasi Penggunaan Bahan Bakar Pada Generator Set Dengan Menggunakan Proses Elektrolisis," J. Tek. Elektro Dan Komput., Vol. 4, No. 2, Pp. 77–88, 2015.
[3] D. Aribowo, D. Desmira, And D. A. Fauzan, "Sistem Perawatan Mesin Genset Di Pt (Persero) Pelabuhan Indonesia Ii," In Prosiding Seminar Nasional Pendidikan Fkip, 2020, Vol. 3, No. 1, Pp. 580–594.
[4] B. Utomo, "Hubungan Antara Konsumsi Bahan Bakar Dengan Berbagai Perubahan Kecepatan Pada Motor Diesel Penggerak Kapal," J. Rekayasa Mesin, Vol. 15, No. 2, Pp. 163–170, 2020.
[5] B. Saputro, "Analisis Keandalan Generator Set Sebagai Power Supply Darurat Apabila Power Supply Dari Pln Mendadak Padam Di Morodadi Poultry Shop Blitar," J. Qua Tek., Vol. 7, No. 2, Pp. 17–25, 2017.
[6] M. Darwis, N. Safitri, And Z. Zamzami, "Rancang Bangun Pembangkit Listrik Tenaga Mikro Hidro Sebagai Distributed Generator Di Laboratorium Pembangkit Di Politeknik Negeri Lhokseumawe," J. Tektro, Vol. 5, No. 1, 2021.
[7] I. M. A. Nugraha, "Penggunaan Pembangkit Listrik Tenaga Surya Sebagai Sumber Energi Pada Kapal Nelayan: Suatu Kajian Literatur," J. Sumberd. Akuatik Indopasifik, Vol. 4, No. 2, Pp. 101–110, 2020.
[8] M. Ricesno And R. Nandika, "Perhitungan Dan Pengujian Beban Pada Generator Di Kapal Tugboat Hangtuah V," Sigma Tek., Vol. 3, No. 1, Pp. 10–21, 2020.
[9] A. Y. Prasetya And T. Kismantoro, "Penyebab Pecahnya Cylinder Liner Pada Generator Engine Di Mt. Martha Option," Din. Bahari, Vol. 7, No. 2, Pp. 1633–1641, 2017.
[10] G. R. Trofiano, "Prosedur Dan Mekanisme Alat Mfr (Medical First Responder) Sebagai Pertolongan Pertama Korban Kecelakaan Di Laut Pada Kegiatan Search And Rescue Pada Badan Sar Nasional Tanjung Emas Semarang," Karya Tulis, 2019.
[11] A. Marsetio, "Dalam Mendukung Pembangunan Indonesia Sebagai Negara Maritim Yang Tangguh." Jakarta, 2013.
[12] Y. A. Purnama, "Markas Komando Dan Pelatihan Tim Sar Pantai Parangtritis Dengan Transformasi Karakter Sar Pantai" Lugas, Cepat, Tegas"." Uajy, 2009.
[13] A. M. Suherman, Hukum Perdagangan Internasional: Lembaga Penyelesaian Sengketa Wto Dan Negara Berkembang. Sinar Grafika, 2022.
[14] L. A. Rahmatullah, "Evaluasi Alat Dan Sistem Gmdss Sebagai Upaya Penyelamatan Jiwa Dilaut Pada Kn Sar Sadewa 231 Basarnas Semarang," Karya Tulis, 2021.
[15] Y. Setiyantara, N. Astriawati, Y. Pertiwi, A. C. Kusuma, And T. W. Bagaskoro, "Optimalisasi Pengoperasian Ais (Automatic Identification System) Dalam Upaya Menjaga Keselamatan Pelayaran," Meteor Stip Marunda, Vol. 16, No. 1, Pp. 1–6, 2023.
[16] A. A. Pratama, N. Astriawati, P. S. Waluyo, And R. Wahyudiyana, "Optimalisasi Perawatan Sistem Pendingin Mesin Utama Di Kapal Mv. Nusantara Pelangi 101," Maj. Ilm. Bahari Jogja, Vol. 20, No. 1, Pp. 1–11, 2022.
[17] Purjiyono, N. Astriawati, And P. S. Santosa, "Perawatan Sistem Pelumasan Mesin Utama Pada Kapal Km. Mutiara Sentosa Ii," J. Teknovasi J. Tek. Dan Inov., Vol. 6, No. 1, Pp. 74–80, 2019.
[18] J. Subekti, W. Wibowo, N. Astriawati, And M. H. Fadholy, "Optimalisasi Perawatan Sistem Pendingin Mesin Utama Tipe Hansin Glu28ag Pada Kapal," Din. Bahari, Vol. 3, No. 1, Pp. 60–68, 2022.
[19] D. Alir, "Metodelogi Penelitian," 2005.
[20] A. Fernando, A. C. Kusuma, S. Suganjar, And N. Astriawati, "Optimalisasi Fungsi Alat Keselamatan Di Kapal Mt. Patra Tanker 2," Maj. Ilm. Gema Marit., Vol. 24, No. 1, Pp. 67–75, 2022.
[21] S. Hadi, "Metodologi Riset," 2019.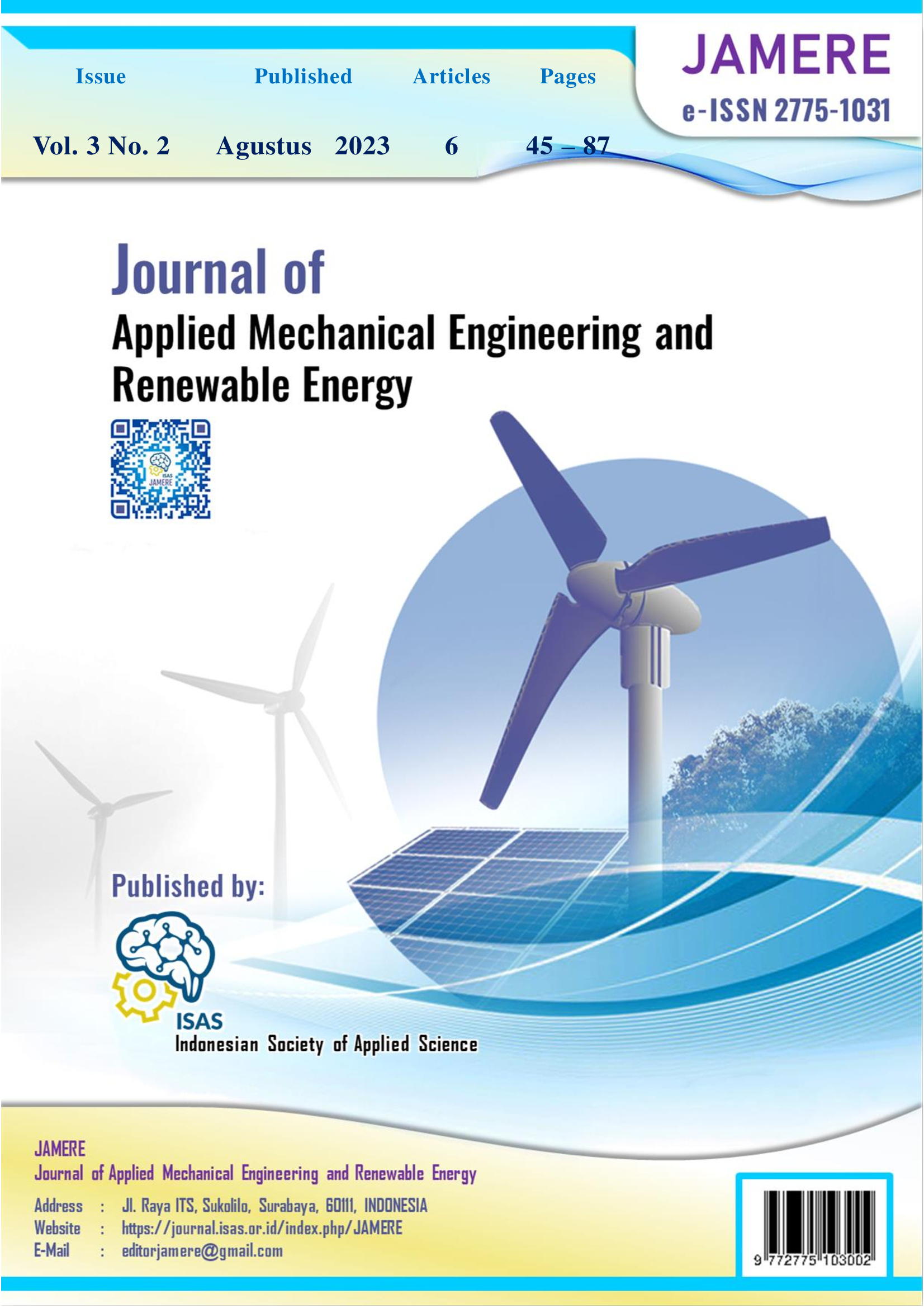 How to Cite
Kristianto, L., Wibowo, W., Astriawati, N., & Kristiawan, N. (2023). Perawatan Mesin Diesel Generator Pada Kapal KN.SAR SADEWA 231. Journal of Applied Mechanical Engineering and Renewable Energy, 3(2), 45-50. https://doi.org/10.52158/jamere.v3i2.543
Copyright (c) 2023 Lukas Kristianto, Waris Wibowo, Ningrum Astriawati, Nanang Kristiawan
This work is licensed under a Creative Commons Attribution 4.0 International License.