Implementasi Algoritma Potential Field Obstacle Avoidance Pada Robot Beroda 4 Omni Wheels Simetris
Kubad Nurhalim

Politeknik Negeri Malang

Indrazno Siradjuddin

Politeknik Negeri Malang

Ratna Ika Putri

Politeknik Negeri Malang
Keywords:
Potential Field, Obstacle Avoidance, Local Minima, Mobile Robot
Abstract
Dalam beberapa tahun terakhir ini, salah satu topik penelitian yang berkembang adalah bidang robotika. Teknologi mobile robot digunakan untuk berjalan dititik yang di tuju dan berkembang lagi untuk menghindari rintangan ketika menuju titik tersebut terdapat rintangan. Permasalahan utama dari menghindari rintangan yang berada di rute yang dituju adalah terbatasnya pergerakan robot dalam menghindari rintangan tersebut. Dengan berbagai pertimbangan yang ada seperti batasan masalah, tujuan untuk menghindari rintangan, mencapai titik yang dituju serta robot tidak berhenti pada daerah yang terdapat rintangan. Oleh sebab itu, dikembangkan mobile robot menggunakan metode algoritma Potential Field dimana pergerakan robot dalam menghindari rintangan menerapkan prinsip gaya tarik-menarik dan tolak-menolak layaknya magnet. Pada penelitian ini menggunakan konstanta attractive sebesar 0.2 dan konstanta repulsive sebesar 0.52, dimana robot berhasil menghindari rintangan ketika menuju titik yang dituju. Hasil pengujian pertama pada robot ketika diuji secara langsung, pengujian pertama menggunakan 1 rintangan di dapatkan data nilai galat sebesar x= 0.2 m, y = 0.1 m dan theta =  0.7°. Pengujian kedua menggunakan 2 buah rintangan di dapatkan data nilai galat sebesar x= 0.058 m, y = 0.15 m dan theta =  1.4°.
References
E. M. Veri Hendrayawan, Nanang Sulistiyanto, 2014. Implementasi Invers Kinematics pada Sistem Pergerakan Mobile Robot Roda Mekanum. Jurnal Mahasiswa Teknik Elektro Universitas Brawijaya, 2 (6), pp.1-10.
Hassani, I., Maalej, I., & Rekik, C. 2018. Robot path planning with avoiding obstacles in known environment using free segments and turning points algorithm. Jurnal Hindawi Mathematical Problems in Engineering, vol. 2018, pp. 1-13
Rachmawan, A. 2017. Penentuan Posisi Robot Sepak Bola Beroda Menggunakan Rotary Encoder dan Kamera. Doctoral, Institut Teknologi Sepuluh Nopember.
Kozlowski, K., & Kowalczyk, W. 2020. Control of Two-wheeled Mobile Robots Moving in Formation. IFAC-PapersOnLine, 53(2), 9608-9613.
Khatib, O. 1986. Autonomous robot vehicles : Real-time obstacle avoidance for manipulators and mobile robots. Springer, New York, NY.
Hart, P. E., Nilsson, N. J., & Raphael, B. 1968. A formal basis for the heuristic determination of minimum cost paths. IEEE transactions on Systems Science and Cybernetics, 4 (2), pp. 100-107.
Stentz, A. 1997. In Intelligent unmanned ground vehicles : Optimal and efficient path planning for partially known environments. Springer, Boston, MA.
LaValle, S. M. (1998). Rapidly-exploring random trees: A new tool for path planning.
Sasi Kumar, G., Shravan, B., Gole, H., Barve, P., & Ravikumar, L. 2011. Path Planning Algorithms: A Comparative Study. Space Transportation Systems Division: Houston, TX, USA.
Rostami, S. M. H., Sangaiah, A. K., Wang, J., & Liu, X. 2019. Obstacle avoidance of mobile robots using modified artificial potential field algorithm. EURASIP Journal on Wireless Communications and Networking, 2019 (1), pp. 1-19.
M. F. Al Fattika, T. Winarno, I. Siradjuddin, Collision Avoidance pada Mobile Robot Menggunakan Kontrol Kinematik, Jurnal Elkolind, Vol. 8, No. 1, 2019
Sirajuddin, Indrazno. 2022. Obstacle Avoidance and Robot Platooning Using Potential Field. Politeknik Negeri Malang, Malang.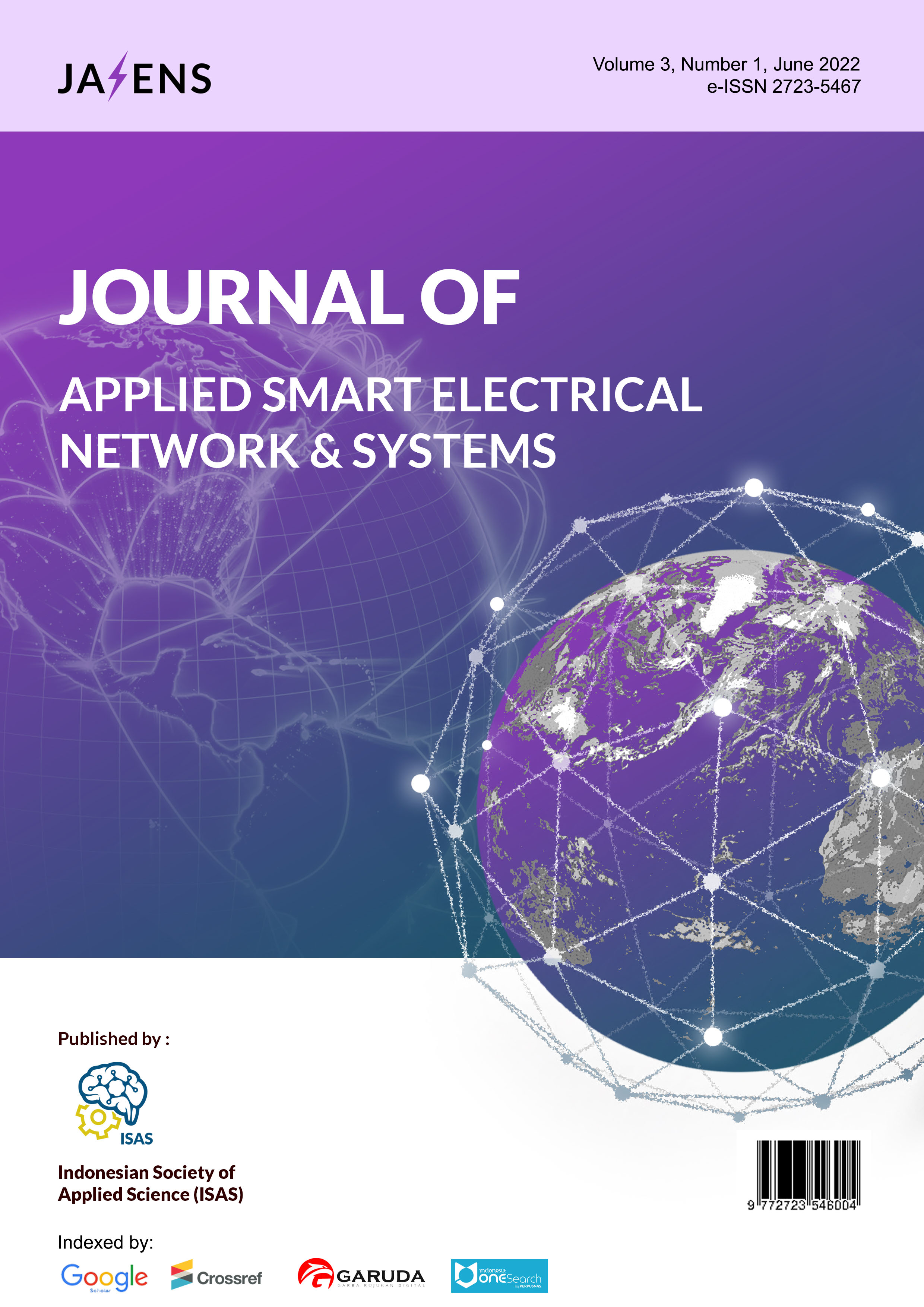 How to Cite
Nurhalim, K., Siradjuddin, I., & Putri, R. I. (2022). Implementasi Algoritma Potential Field Obstacle Avoidance Pada Robot Beroda 4 Omni Wheels Simetris. Journal of Applied Smart Electrical Network and Systems, 3(01), 16-24. https://doi.org/10.52158/jasens.v3i01.417
Copyright (c) 2022 Kubad Nurhalim, Indrazno Siradjuddin, Ratna Ika Putri
This work is licensed under a Creative Commons Attribution 4.0 International License.