Analisis Energi Baru Terbarukan Untuk Sistem Kelistrikan Desa
Aesha Fathara

Universitas Tanjungpura Pontianak
Keywords:
solar energy, biomas, rice husk and straw, homer, village electricity
Abstract
Electricity is a primary need for society. Energy that will never run out of availability is energy from solar radiation. Indonesia is an agricultural country that can utilize alternative energy by utilizing biomass energy, one of which is rice husk and straw waste. Based on data from the BMKG Paloh Station, Sambas Regency has a fairly large intensity of sunlight because it is located just below the equator. The intensity of light in the dry season can reach 6 hours in a period of 8 hours of sunlight, namely from 8.00 - 16.00. The resulting energy conversion is 38.01 mj/m2/day. Meanwhile, for the biomass potential from the BPS data of Sambas Regency in Tebas District, there are 6,730 ha of rice fields, which can produce 403 tons of rice husk and straw waste in one day for 1 year and can produce 5 million Mj/day . The results of the conversion analysis of the optimization of renewable energy for power plants that have an annual peak power of 45kW and daily energy consumption of 330kWh/day obtained the most optimal potential for rice husk and straw waste, which requires an initial capital of $ 67,120 with a total net present minimum cost. Electricity from the system cost is also minimum at US$ 0.005/kWh. And in technical economic analysis, modeling this system requires a payback period of about 11 years without grid bills and 5 years with grid bills. Meanwhile, conversion using PV requires larger capital and longer payback.
References
"buku-teknis-membangun-sarana-prasarana desa gUNARLAN.pdf."
T. Iskandar, "PEMANFAATAN LIMBAH PERTANIAN SEBAGAI ENERGI ALTERNATIF MELALUI KONVERSI THERMAL," vol. 12, no. 1, p. 6, 2012.
A. Almu, "ANALISA NILAI KALOR DAN LAJU PEMBAKARAN PADA BRIKET," vol. 4, no. 2, p. 6, 2014.
U. B. Surono, "Peningkatan Kualitas Pembakaran Biomassa Limbah Tongkol Jagung sebagai Bahan Bakar Alternatif dengan Proses Karbonisasi dan Pembriketan," J. Rekayasa Proses, vol. 4, no. 1, p. 6, 2010.
I. Febijanto, "POTENSI BIOMASA INDONESIA SEBAGAI BAHAN BAKAR PENGGANTI ENERGI FOSIL," vol. 9, no. 2, p. 11, 2007.
A. F. Mulyadi, I. A. Dewi, and P. Deoranto, "PEMANFAATAN KULIT BUAH NIPAH UNTUK PEMBUATAN BRIKET BIOARANG SEBAGAI SUMBER ENERGI ALTERNATIF," vol. 14, no. 1, p. 9.
"Jalal Rosyidi Soelaiman - 081810201044.pdf."
J. E. Putro, C. R. Handoko, H. Widodo, M. B. Rahmat, and A. Z. Arfianto, "Pemanfaatan Teknologi Tenaga Matahari sebagai Sumber Energi bagi Petani Porang di Magetan," p. 5, 2017.
F. Sheriff, D. Turcotte, and M. Ross, "PV TOOLBOX: A COMPREHENSIVE SET OF PV SYSTEM COMPONENTS FOR THE MATLAB®/SIMULINK® ENVIRONMENT," p. 12.
Wikipedia. 2019. Biomassa. (Online), http://id.wikipedia.org/wiki/Biomassa_(eklogi) diakses 23 November 2019.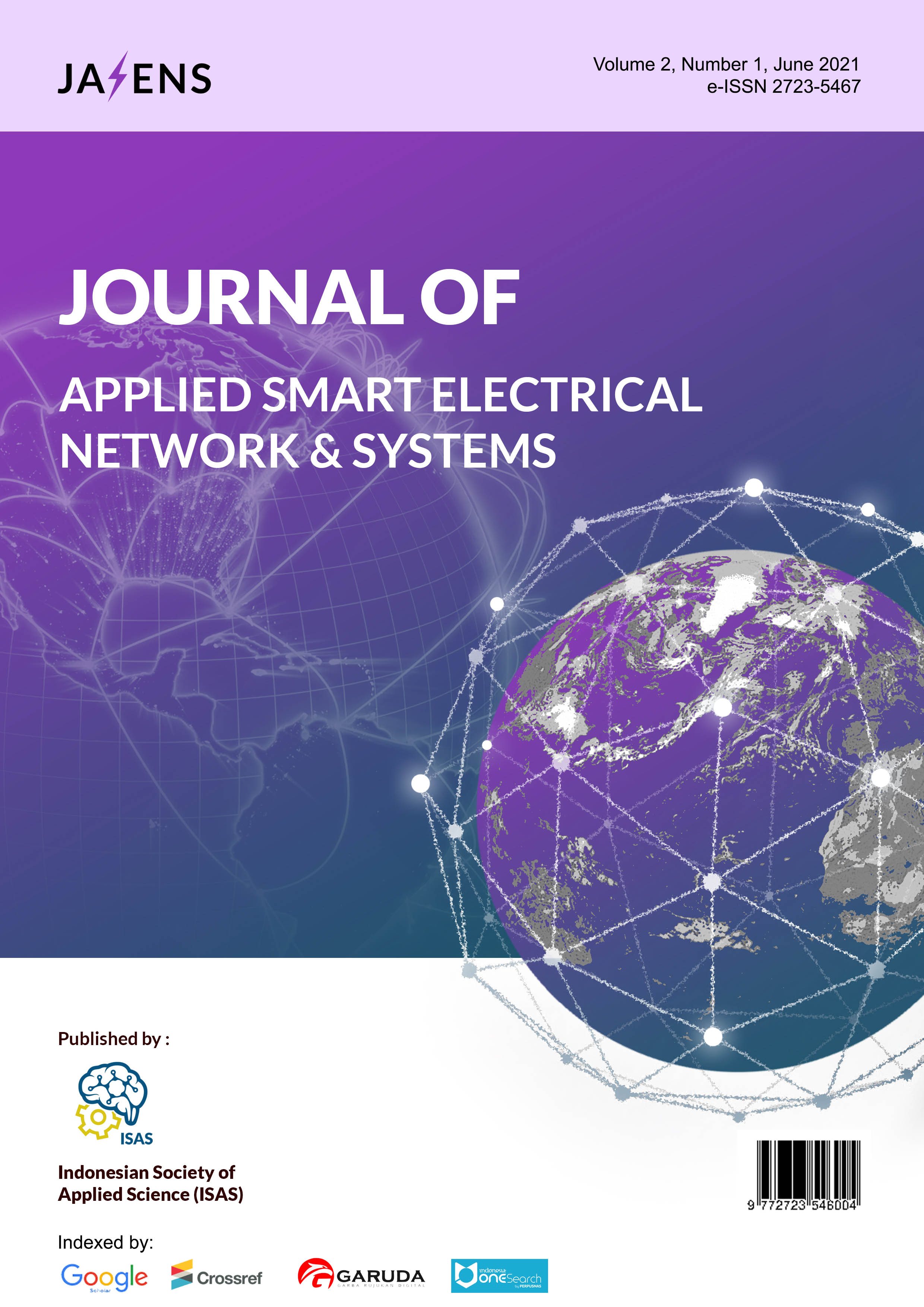 How to Cite
Fathara, A. (2021). Analisis Energi Baru Terbarukan Untuk Sistem Kelistrikan Desa. Journal of Applied Smart Electrical Network and Systems, 2(01), 13-23. https://doi.org/10.52158/jasens.v2i01.181
Copyright (c) 2021 AESHA FATHARA
This work is licensed under a Creative Commons Attribution 4.0 International License.